Hello Simply Move Community,
Happy Summer! Summer is definitely in full swing here in the PNW. Not only has it been super hot, this summer is feeling a lot different than last summer. As things are opening back up you may find it hard to stay in your yoga routine. The best part about zoom yoga is you can do it just about anywhere, like your backyard, hotel balcony, beach or campsite. A recording is also available to follow along to at a later date if you cannot make it to class. Don't have a yoga practice? Summer is also a great time to start one. As the days get longer you may find yourself feeling more energetic and have more free time in your day to commit to a practice.
Thank you to everyone who joined the Spring Term - 8 week course and way to go for making the commitment. I know it is not always easy, but hopefully you are feeling the results, got some tips for improving your balance, and built some confidence in Warrior III.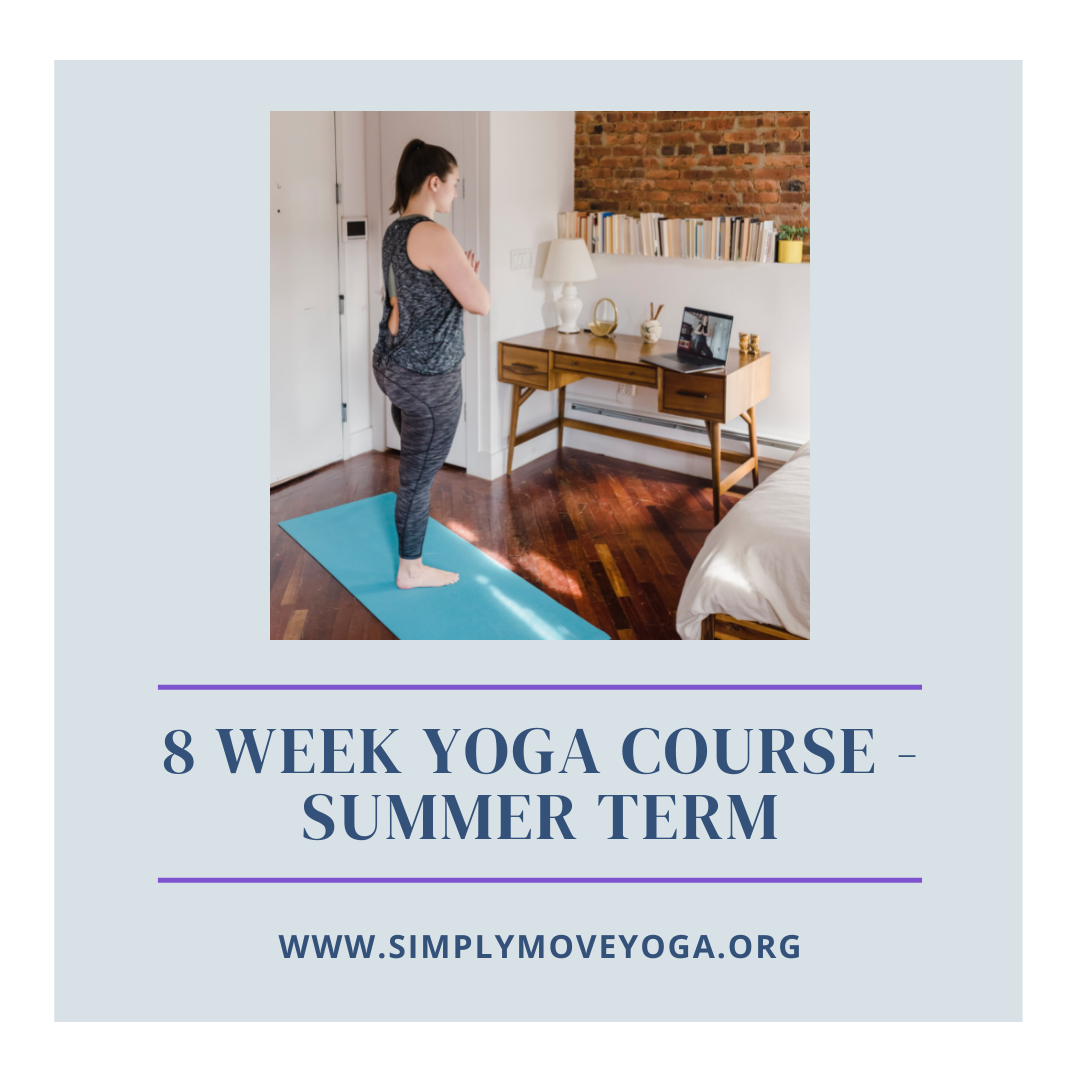 I am happy to announce that registration for the Summer Term - 8 week course is now open. Summer Term classes will begin the week of July 19th. The schedule is listed below (note: days and times are staying the same). The focus for this course will be on building strength for yoga. Students will explore ways to find more steadiness and strength in poses like Warrior III (Virabhadrasana III) and be introduced to Half Moon (Ardha Chandrasana). We will build up heat in the body fairly quickly and will end with a longer relaxation to balance out the busy days of summer.
Recommended props: a yoga mat, blankets, 2 blocks, and pillows or cushions.
Mondays: 4:00-5:00 pm
Thursdays: 4:00-5:00 pm
Register by clicking here https://www.simplymoveyoga.org/schedule
*Registration includes a summer challenge.*
*Summer Challenge:
When you register for the Summer Term - 8 week yoga course you'll receive an at home strength building challenge to follow along during the Summer Term. The challenge will be emailed to you once the Summer Term has started. No special equipment is required and you can tailor the exercises to fit your ability and needs.
Why is strength building important for a yoga practice?
Yoga poses can be challenging and not having the strength or body awareness can cause injuries. That is why it is so important to go slow, do what you can, and use what you have. I think of yoga as a strength training activity and though we may not be lifting heavy weights, we are moving our bodies into positions that force us to support our own body weight. Yoga also incorporates stretching exercises which makes it a more balanced way to do strength training.
What yoga does for our bodies and muscles:
Tones the muscles all over the body.
Works multiple muscle groups at a time.
Increases stability in the joints.
Reduces the risk of injury.
Increases range of motion.
Improves flexibility.
Increase muscle endurance.
Keeps the body functioning properly.
What is Half Moon (Ardha Chandrasana) Pose?
Half Moon pose is a balancing pose. Like all yoga poses, it has many different variations, so Half Moon can look different depending on which option you choose. Below are two examples of how it can look, but try not to get too fixated on any pose needing to "look" a certain way. In class, we will explore many options and you can choose what feels best in your body. All options are valid and offer the same benefits.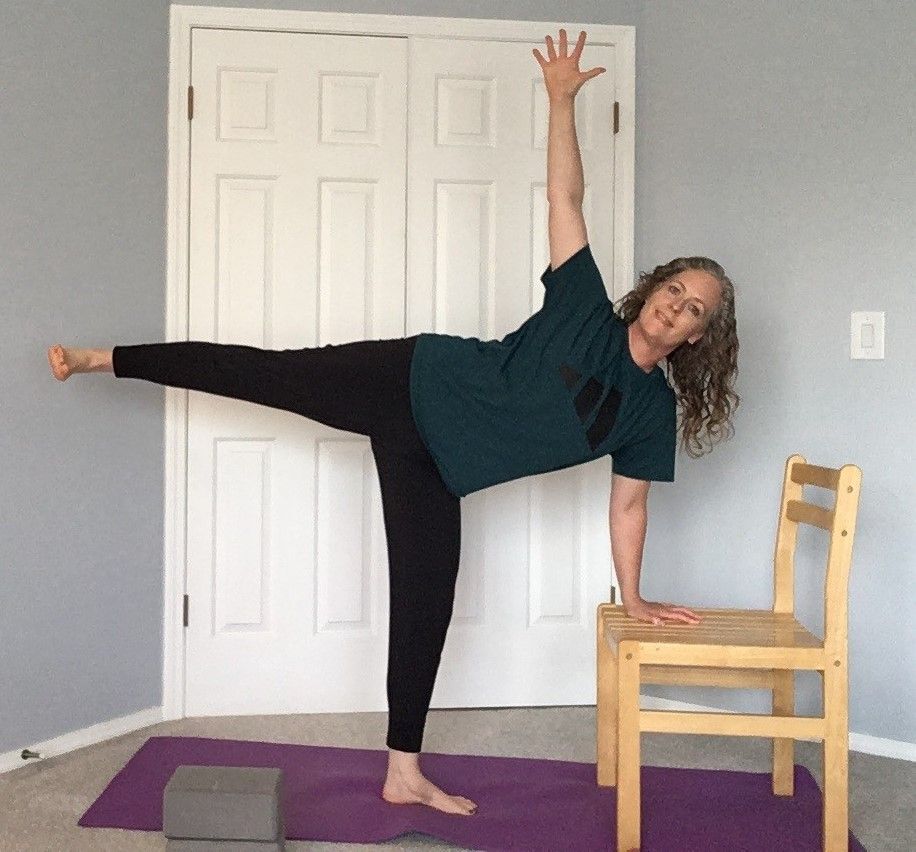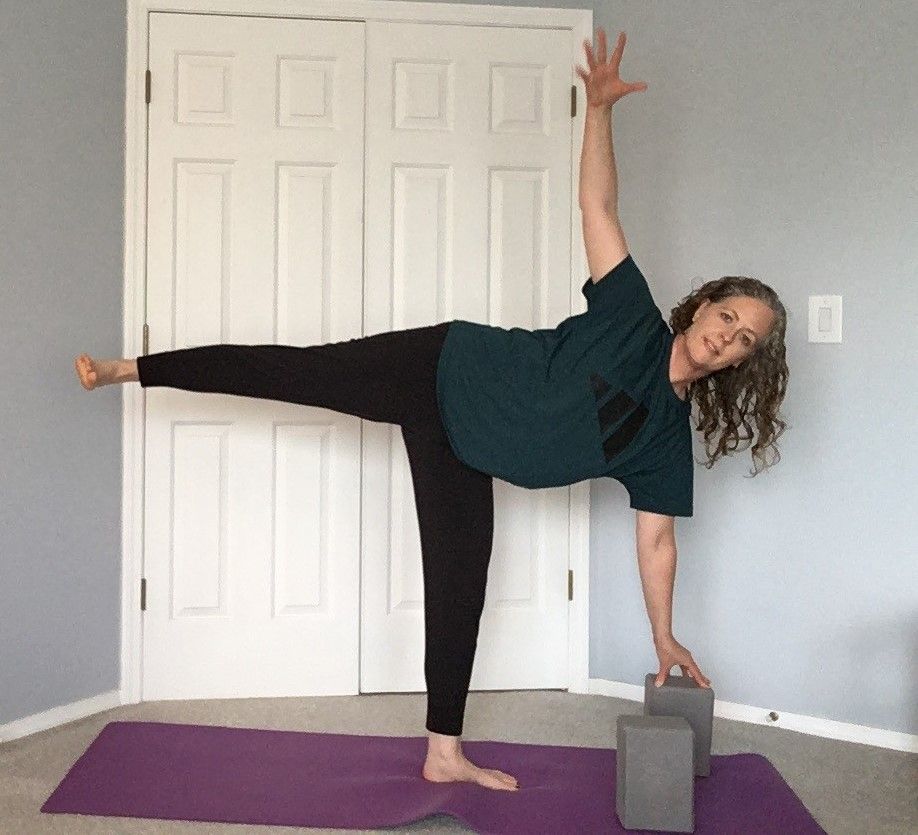 What are the benefits of Half Moon?
Strengthens the arches, ankles, knees, and thighs.
Opens the chest and hips.
Stretches the hamstrings.
Strengthens abdomen, glutes, and spine.
Improves balance and coordination.
Builds focus.
Develops willpower.
I appreciate every one of you and I hope you will join me over the summer for some yoga and strength building.
Hope to see you on the mat,
Kelly
Simply Move