Hello Simply Move Community,
Happy Summer Everyone! Last year at this time, the PNW was in a historic, record breaking heatwave. This year has been the complete opposite with cooler than normal temperatures and lots of rain. Needless to say, summer is off to a slow start. Hopefully there will be a happy medium between not too hot and not too cold in the near future. Cooler springs and summers remind us how much most of us enjoy the sun (although there are always exceptions). The sun is such an important part of our wellbeing and the Earth's. The Earth needs the sun to survive, the plants need the sun to survive, and we humans need the sun to survive. Simply put, the sun makes life possible. It's no wonder that ancient scriptures talk about and celebrate the sun. Did you know that there are yoga sequences called Sun Salutations that celebrate the sun? So it only seems fitting to celebrate the sun for the Summer Term 8 week Yoga Course.
Speaking of the 8 Week Yoga Courses, I hope that those of you who joined the Spring Term have noticed some increased stability in your core and shoulders and gained some flexibility in the hamstrings. How did you enjoy the compassion meditations? Did you find them helpful or useful? Thank you so much for being part of the Simply Move Yoga Community!
Summer Term - 8 Week Course registration is now open: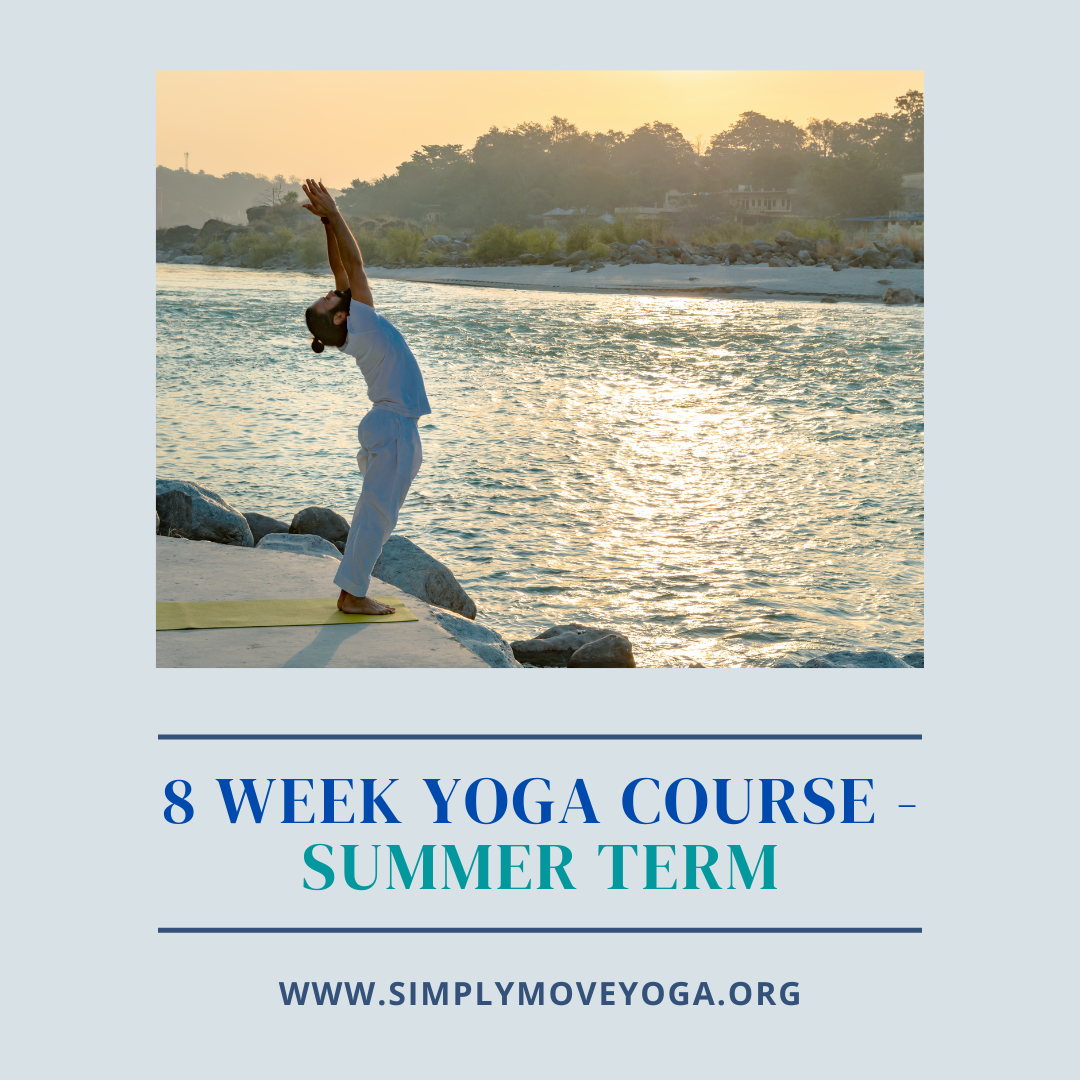 Summer Term classes will begin the week of July 11th. The focus for this course will be exploring many different variations of Sun Salutations including lying down, seated in a chair, and standing. Find the best variations for your body and ability. Students will also be introduced to the 5 Yoga Calm principles through short guided meditations and yoga poses. The 5 Yoga Calm Principles include: grounding, listening, community, strength, and stillness.
Recommended props: a yoga mat, 2 blocks, sturdy chair, blankets, and pillows or cushions.
*Please register by July 8th.
Mondays: 4:30-5:30 pm
Thursdays: 4:30-5:30 pm
Register by clicking here https://www.simplymoveyoga.org/schedule
Want to register for both days at once and receive a discount? Click here to be taken to the package page: https://www.simplymoveyoga.org/offering_packages
On-Demand 8 week Yoga Course Now Available:
If the LIVE class times and days do not work for you, why not join the On-Demand option. Each Monday evening you will receive the recording of the Live class. Follow along to the recording whenever is convenient for you throughout the week. You will have access to each week's recording for 7 days. You can also email me anytime if you have any questions about specific poses we do in class or if you need help modifying a pose.
Benefits of On-Demand:
Choose when to do the class.
Access to each recording for 7 days.
Watch the recordings as many times as you like during the 7 day period.
Cheaper than LIVE classes.
Practice in the comfort of your own home.
Ability to pause and play back recordings as needed.
Saves you time and money.
Recordings travel with you. Access on any device from anywhere.
How do I sign up?
Click the link below. You will be taken to the schedule page. Click the registration button for 8 Week Yoga Course - Summer Term - Mondays. There will be a drop down pricing menu including Live and On-demand options. Choose the On-demand option and follow the rest of the prompts.
https://www.simplymoveyoga.org/schedule
Yoga Nerd - An Overview of Sun Salutations: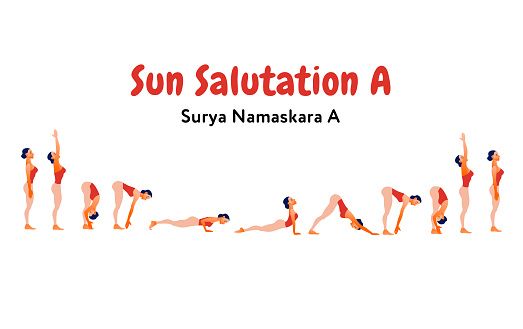 What is a Sun Salutation:
A Sun Salutation or Surya Namaskar (pronounced Sur-ya-Nama-skar) means bowing to the inner sun. In Sanskrit, Surya means sun and Namaskara means to bow.
In general terms, Sun Salutations or Sun Sals, are a set of yoga poses that when sequenced and performed together are said to bring great health benefits. The image above is an example of a Sun Salutation. The traditional Sun Salutations are performed at the rise or setting of the sun. As Sun Sals have gained popularity in the West for being a great physical activity you are almost guaranteed to find them in every yoga class taught. Usually Sun Sals are taught as a warm up at the beginning of a class, but can also be used as a stand alone exercise. Sun Sals are very versatile in that you can use them in many different ways with many different approaches. Repeating Sun Sals multiple times and at a faster pace can be a great cardio activity. Moving through Sun Sals with the breath can bring you into the present moment. Performing Sun Sals slowly while holding the poses can help build more strength in the muscles and joints. Practicing a Sun Sal outside in the early morning or evening helps connect one to the earth.
Benefits of practicing Sun Salutations:
Warming up the entire body.
Linking breath and movement.
Encourages deep breaths.
Stretches and lubricates all the joints in the body.
Creating a ritual, a series of movements that you can link together and repeat regularly.
Can be a good cardiovascular workout.
Takes the spine through full range of motion.
I appreciate every one of you and I hope you will join me for some Summer yoga fun.
See you on the mat,
Kelly
Simply Move